Placements at IBS Dehradun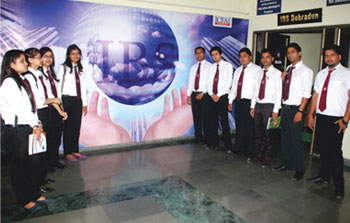 IBS Dehradun is successfully placing its students in eminent organizations since its inception in 2004. The Career Management Center at IBS guides and mentors the students on placement matters. Decisions related to the companies visiting the campus for recruitment are broadly based on parameters such as job profile, growth prospects, remuneration packages and number of students the company intends to select. IBS Dehradun has achieved excellent campus placement for the final year students and summer internship placements, reflecting the faith and confidence of the industry in its students.
Salary Statistics - Class of 2017 ( Rs. Lacs pa )
Highest: 6.66 Median: 4.00 Mean: 3.84
Placements 2018
The class of 2018 comprises of 75 students with diversified academic background, coming from all parts of the country. The placement season for the class of 2018 will commence from October' 17. The campus placement will start with Pre- Placement talk followed by the selection process.
We extend a warm & cordial invitation to you to visit our campus and give these young professionals an opportunity to show their talent.
Time Slots
We request the Companies to confirm their visit schedules early so that appropriate time slots can be given.
Prof. Sanjeev Malaviya
Faculty Co-ordinator - Placement
Phones: +91.97600 25256, 80777 47390
Email: msanjeev@ibsindia.org
sanjeevmalaviya@gmail.com
Mr. Himanshu Pandey
Manager - Placement
Phones: +91.70600 00132, 99177 22949
Email: himanshupandeyibs@gmail.com,
placements.ibsdehradun@gmail.com
Flight Connectivity
| | | | | |
| --- | --- | --- | --- | --- |
| Flight No. | Airlines | Days | Departure from Delhi | Arrival at Dehradun |
| 9W-2831 | Jet Airways | Daily | 6:05 am | 7:15 am |
| 9W-2829 | Jet Airways | Daily | 10:30 am | 11:30 am |
| AI-9609 | Alliance Air | Tue/Thus/Sat | 10:20 am | 11:05 am |
| 6E-964 | IndiGo | Daily | 11:20 am | 12:10 am |
| SG-124 | Spicejet | Daily | 11:45 am | 12:30 pm |
| AI-9609 | Alliance Air | Sun/Mon/Wed/Fri | 11:30am | 12:15 pm |
| 9W-2743 | Jet Airways | Daily | 12:05 pm | 13:10 pm |
| 6E-966 | IndiGo | Daily | 13.00 pm | 13:55 pm |
| 9W-2857 | Jet Airways | Daily | 13:55 pm | 15:00 pm |
| SG-2327 | Spicejet | Daily | 17:35 pm | 18:20 pm |
| 6E-246 | IndiGo | Daily | 16:25 pm | 17:20 pm |
| 9W-2825 | Jet Airways | Daily | 16:50 pm | 18:05 pm |
| AI-9609 | Air India | Daily | 17:45 pm | 18:45 pm |
Train Connectivity
| | | | | |
| --- | --- | --- | --- | --- |
| Train No. | Train Name | From | Departure from Delhi | Arrival at Dehradun |
| 12205 | Nanda Devi Exp | New Delhi | 23.50 pm | 05.45 am |
| 14041 | Mussoorie Exp | Delhi Sarai Rohilla | 21.30 pm | 08.10 am |
| 12055 | Dehradun Janshatabdi Exp | New Delhi | 15.20 pm | 21.10 pm |
| 12017 | Dehradun Shatabdi Exp | New Delhi | 06.45 am | 12.40 pm |